Introduction
Around June 2016, I created my site and utilized it as a personal blog. Throughout the years it had gradually evolved into what you are seeing right now. The site itself had undergone a few refurbishments, which changed its appearence profoundly.
During the time I participated in Olympiad in Informatics, I gained a certain fetish for Splay Trees, given its ease of demonstration and powerful functions over other data structures. Most of the time it yielded incorrect answers, so I gave myself a name JeffSplayWithTrees, also abbreviated as jeffswt.
So I spent 5 years' time learning and training in the expertise of OI, from Junior high through Senior high. These 5 years had been the most fulfilled days by then, when I attended HS Affiliated to Renmin University, China.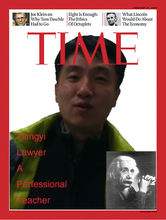 Tsienyi Lawyer had been our coach all those days, to whom I shall dedicate sincere gratitude, whom had always been a professional teacher.
I left OI in June 2017, around 1 year after the birth of this site, but my life on Computer Science shall continue, and shall thrive for the longer.
Friends
These are links to some of my friends, which you may find helpful (sorted in alphabetical order).
Contact
You can find me at other places rather than this site:
Legal
IF YOU LIVE IN (OR IF YOUR PRINCIPAL PLACE OF BUSINESS IS IN) PEOPLE'S REPUBLIC OF CHINA, PLEASE READ THE FOLLOWING LICENSE TERMS (CLICK TO EXPAND):
1. Overview
1.1. Your use of The Site is governed by this agreement (the "Terms"). "jeffswt" and "JeffSplayWithTrees" means the owner of this website, Geoffrey Tang. "The Site" means the services and information JeffSplayWithTrees makes available through this website, including this website, and any other software or services offered by JeffSplayWithTrees in connection to any of those.
1.2. In order to use This Site, you must first agree to the Terms. You can agree to the Terms by actually using This Site. You understand and agree that JeffSplayWithTrees will treat your use of This Site as acceptance of the Terms from that point onwards.
1.3. You may not use This Site if you are a person barred from receiving This Site under the laws of the People's Republic of China or other countries, including the country in which you are resident or from which you use This Site.
2. Policies and Privacy
2.1. Your use of the Site is subject to this Acceptable Use Policy. If you are found to be in violation of our policies at any time, as determined by JeffSplayWithTrees in its sole discretion, we may warn you or inform certain authorities to take action. Please note that we may change our Acceptable Use Policy at any time, and pursuant to the Terms, it is your responsibility to keep up-to-date with and adhere to the policies posted here.
2.1.1. The Content displayed through your comments or any interactions utilizing the Service shall not contain any of the following types of content:
Content that infringes a third party's rights (e.g., copyright) according to applicable law;
Excessively profane content;
Hate-related or violent content;
Content advocating racial or ethnic intolerance;
Gambling;
Other illegal activity, including without limitation illegal export of controlled substances or illegal software;
Drug paraphernalia;
Phishing;
Malicious content;
Other material, products or services that violate or encourage conduct that would violate any criminal laws, any other applicable laws, or any third-party rights.
2.1.2. In addition to (and/or as some examples of) the violations described in the Policy, you may not and may not allow any third party to:
Send, upload, distribute or disseminate or offer to do the same with respect to any unlawful, defamatory, harassing, abusive, fraudulent, infringing, obscene, or otherwise objectionable content;
Intentionally distribute viruses, worms, defects, Trojan horses, corrupted files, hoaxes, or any other items of a destructive or deceptive nature;
Conduct or forward pyramid schemes and the like;
Transmit content that may be harmful to minors;
Impersonate another person (via the use of an email address or otherwise) or otherwise misrepresent yourself or the source of any email;
Illegally transmit another's intellectual property or other proprietary information without such owner's or licensor's permission;
Use the Service to violate the legal rights (such as rights of privacy and publicity) of others;
Promote or encourage illegal activity;
Interfere with other users' enjoyment of the Service;
Perform significant load testing without first obtaining JeffSplayWithTree's written consent (email permitted), as otherwise these may be treated as denial-of-service attacks;
Sell, trade, resell or otherwise exploit the Service for any unauthorized commercial purpose;
Remove any copyright, trademark or other proprietary rights notices contained in or on the Service;
Display any content on the Site that contains any hate-related or violent content or contains any other material, products or services that violate or encourage conduct that would violate any criminal laws, any other applicable laws, or any third party rights;
2.2. The Site shall be subject to the privacy policy for the Site. You agree to the use of your data in accordance with our privacy policies.
2.2.1. When you request information or view pages on The Site, we will gather the information that you visited this page.
2.2.2. When you send information on The Site, we will gather the information you entered and sent and only.
2.2.3. We use common Internet technologies, such as cookies, to keep track of interactions with the Site's services and information.
2.2.4. We use information collected to provide you with the Services you request and make basic statistics.
2.2.5. Unless explicitly granted by the user or required by local authorities, we do not share, sell, rent, or trade information with third parties.
3. Content on the Site and Take Down Obligations
3.1. You understand that all information (such as data files, written text, computer software, music, audio files or other sounds, photographs, videos or other images) to which you may have access as part of, or through your use of, the Site is the sole responsibility of the person from which such content originated. All such information is referred to below as the "Content".
3.2. JeffSplayWithTrees reserves the right (but shall have no obligation) to remove any or all Content from the Site. You agree to immediately take down any Content that violates the Acceptable Use Policy, including pursuant to a take down request from JeffSplayWithTrees. In the event that you elect not to comply with a request from JeffSplayWithTrees to take down certain Content, JeffSplayWithTrees reserves the right to directly take down such Content.
3.3. You agree that you are solely responsible for (and that JeffSplayWithTrees has no responsibility to you or to any third party for) the Content that you create, transmit or display while using the Site and for the consequences of your actions (including any loss or damage which JeffSplayWithTrees may suffer) by doing so.
3.4. You agree that JeffSplayWithTrees has no responsibility or liability for the deletion or failure to store any Content and other communications maintained or transmitted through use of the Site. You further acknowledge that you are solely responsible for securing and backing up your Content.
4. Proprietary Rights
4.1. You acknowledge and agree that JeffSplayWithTrees owns all legal right, title and interest in and to the Site, including any intellectual property rights which subsist in the Site (whether those rights happen to be registered or not, and wherever in the world those rights may exist).
4.2. JeffSplayWithTrees acknowledge and agree that he obtains no right, title or interest from you (or your licensors) under these Terms in or to any Content that you create, submit, post, transmit or display on, or through, the Site, including any intellectual property rights which subsist in that Content (whether those rights happen to be registered or not, and wherever in the world those rights may exist). Unless you have agreed otherwise in writing with JeffSplayWithTrees, you agree that you are responsible for protecting and enforcing those rights and that JeffSplayWithTrees has no obligation to do so on your behalf.
5. Modification and Termination
5.1. JeffSplayWithTrees is constantly innovating in order to provide the best possible experience for the users. You acknowledge and agree that the form and nature of the Site may change from time to time without prior notice to you. Examples of changes to the form and nature of the Site include security patches, added functionality, and other enhancements.
5.2. You may terminate these Terms at any time by stop using the Site.
5.3. You are solely responsible for exporting your Content from the Site prior to termination of your usage for any reason, provided that if we terminate your usage, we will provide you a reasonable opportunity to retrieve your Content.
5.4. Upon any termination of the Site or your usage these Terms will also terminate, but Sections 4.1, 5, 6, 7, 8 shall continue to be effective after these Terms are terminated.
6. EXCLUSION OF WARRANTIES
6.1. NOTHING IN THESE TERMS, INCLUDING SECTIONS 6 AND 7, SHALL EXCLUDE OR LIMIT JEFFSPLAYWITHTREES' WARRANTY OR LIABILITY FOR LOSSES WHICH MAY NOT BE LAWFULLY EXCLUDED OR LIMITED BY APPLICABLE LAW.
6.2. YOU EXPRESSLY UNDERSTAND AND AGREE THAT YOUR USE OF THE SITE IS AT YOUR SOLE RISK AND THAT THE SITE IS PROVIDED "AS IS" AND "AS AVAILABLE."
6.3. JEFFSPLAYWITHTREES MAKE NO EXPRESS WARRANTIES AND DISCLAIM ALL IMPLIED WARRANTIES REGARDING THE SITE, INCLUDING IMPLIED WARRANTIES OF MERCHANTABILITY, FITNESS FOR A PARTICULAR PURPOSE AND NON-INFRINGEMENT. WITHOUT LIMITING THE GENERALITY OF THE FOREGOING, JEFFSPLAYWITHTREES DOES NOT REPRESENT OR WARRANT TO YOU THAT: (A) YOUR USE OF THE SITE WILL MEET YOUR REQUIREMENTS, (B) YOUR USE OF THE SITE WILL BE UNINTERRUPTED, TIMELY, SECURE OR FREE FROM ERROR, AND (C) USAGE DATA PROVIDED THROUGH THE SITE WILL BE ACCURATE.
7. LIMITATION OF LIABILITY
7.1. SUBJECT TO SECTION 6.1 ABOVE, YOU EXPRESSLY UNDERSTAND AND AGREE THAT JEFFSPLAYWITHTREES SHALL NOT BE LIABLE TO YOU FOR ANY DIRECT, INDIRECT, INCIDENTAL, SPECIAL CONSEQUENTIAL OR EXEMPLARY DAMAGES WHICH MAY BE INCURRED BY YOU, HOWEVER CAUSED AND UNDER ANY THEORY OF LIABILITY. THIS SHALL INCLUDE, BUT NOT BE LIMITED TO, ANY LOSS OF PROFIT (WHETHER INCURRED DIRECTLY OR INDIRECTLY), ANY LOSS OF GOODWILL OR BUSINESS REPUTATION, ANY LOSS OF DATA SUFFERED, COST OF PROCUREMENT OF SUBSTITUTE GOODS OR SERVICES, OR OTHER INTANGIBLE LOSS.
7.2. THE LIMITATIONS ON JEFFSPLAYWITHTREES' LIABILITY TO YOU IN PARAGRAPH 7.1 ABOVE SHALL APPLY WHETHER OR NOT JEFFSPLAYWITHTREES HAS BEEN ADVISED OF OR SHOULD HAVE BEEN AWARE OF THE POSSIBILITY OF ANY SUCH LOSSES ARISING.
8. General Legal Terms
8.1. The Terms constitute the whole legal agreement between you and JeffSplayWithTrees and govern your use of the Site (but excluding any services which JeffSplayWithTrees may provide to you under a separate written agreement), and completely replace any prior agreements between you and JeffSplayWithTrees in relation to the Site.
8.2. You agree that if JeffSplayWithTrees does not exercise or enforce any legal right or remedy which is contained in the Terms (or which JeffSplayWithTrees has the benefit of under any applicable law), this will not be taken to be a formal waiver of JeffSplayWithTrees' rights and that those rights or remedies will still be available to JeffSplayWithTrees.
8.3. JeffSplayWithTrees shall not be liable for failing or delaying performance of its obligations resulting from any condition beyond its reasonable control, including but not limited to, governmental action, acts of terrorism, earthquake, fire, flood or other acts of God, labor conditions, power failures, and Internet disturbances.
---